On August 8th, 2013, President Barack Obama named C.T. Vivian as the recipient of the Presidential Medal of Freedom with these remarks:
"C. T. Vivian is a distinguished minister, author, and organizer. A leader in the Civil Rights Movement and friend to Martin Luther King, Jr., he participated in Freedom Rides and sit-ins across our country. Vivian also helped found numerous civil rights organizations, including Vision, the National Anti-Klan Network, and the Center for Democratic Renewal. In 2012, he returned to serve as interim President of the Southern Christian Leadership Conference."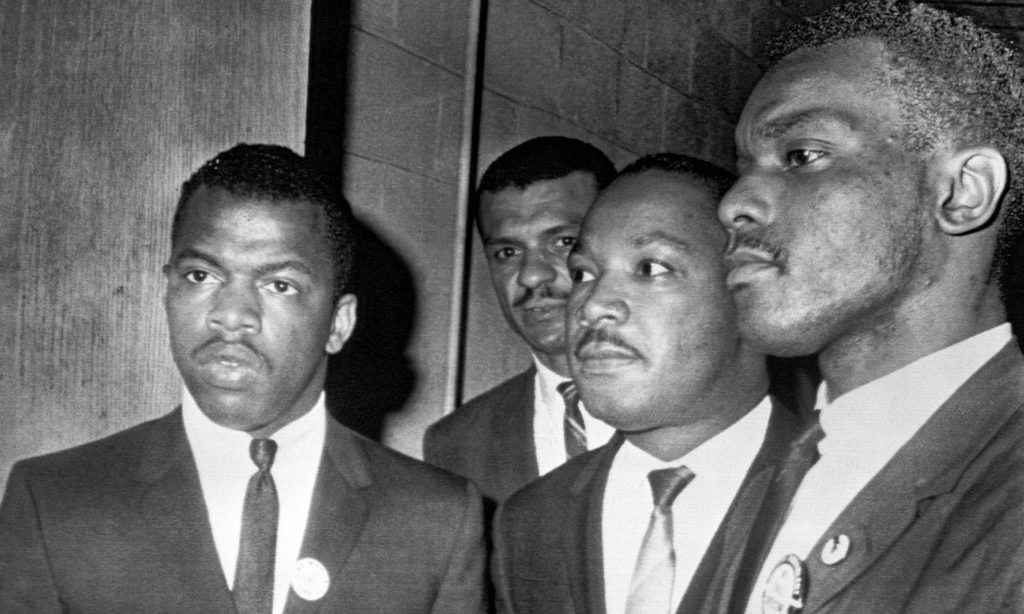 Left to right, John Lewis, the Rev. C.T. Vivian, Martin Luther King Jr., and Lester McKinnie at Fisk University in Nashville, Tennessee, on May 4, 1964. Photo by Bettmann/Getty Images.
UBUNTU – one's own humanity is inextricably bound with that of others.
DESMOND TUTU
America has lost a great statesman and civil rights leader with the passing of Congressman John Lewis on July 17.  Less known was one of his and Martin Luther King's spiritual advisors,  the Rev. Cordy "C.T." Vivian who died at age 95 just hours after John Lewis. (1)
Much of present day Christianity (read: white Christianity) bases its theology on the tenet of 'salvation' and the hereafter.  Suffer or enjoy life in this world because there is assurance of an eternity in a heaven with palatial homes, gold paved streets and choirs of heavenly voices singing "hallelujah" forever and ever. Amen.
Unfortunately, African-Americans have not been able to share that dream of the hereafter.  Or, perhaps, it is fortunate as their earthly experience has led many black civic and religious leaders to present an alternate view of religion, specifically Christianity.
"They interpret religious teachings through the prism of the injustice in the here and now." (1)
Speaking of King's influence, John Lewis said:
"He was not concerned about the streets of heaven and the pearly gates and the streets paved with milk and honey. He was more concerned about the streets of Montgomery and the way that Black people and poor people were being treated in Montgomery." (1)
What we do here matters, how we live matters, how we treat others matters.  We are 'inextricably' bound to every human on earth regardless of faith profession, absence of faith profession, skin color and nationality.  Somehow, Christianity, infused with the gospel of prosperity and exclusiveness, has missed that key ingredient of the teachings found in its scriptures related to us as the story of Jesus Christ in the NT.
We are ONE.  The African-American's journey in this country enduring slavery, Jim Crow laws, segregation, discrimination and present day racism has invigorated within blacks the concept of UBUNTU as voiced by Desmond Tutu.
(1)  yes! journalism
Honoring the divine in every aspect of Creation
So many of us have lived our lives placing unmerited value on the opinions of others while discrediting our personal truth and reality.  Breaking the shackles of people-pleasing requires honest self-appraisal, a healthy dose of self-esteem, and an enormous commitment to self-realization.  
….as near as the destination may be, it's still the journey that matters….